Vor ein paar Tagen wurde  das Board X400 von der Firma Suptronics zugestellt.
Das Board wurde von der Firma www.gearbest.com gesponsert, vielen Dank an dieser Stelle an @Mark.
Das Paket wurde von der Firma Lomeway in Deutschland geliefert, somit gibt es keine Zusatzkosten für den Zoll.
Geliefert wurde die Platine, Abstandshülsen, Plastikschrauben und Brückenstecker zum aufstecken auf die Kontakte.
Die Technischen Daten :
 

Eingangsspannung 6V bis 24V

 Ausgang für Raspberry PI 5V, 3A via Step-Down DC/DC Converter

Full-HD audio – up to 24-bit/192kHz playback

Class leading audio; 112db SNR, and THD of 0.0019%

Audiophile TI Burr Brown 32-bit/384kHz DAC (TI PCM5122)

Uses the digital I2S audio signals to reduce CPU load over USB audio solutions

Integrated hardware volume control (Eingebauter Lautstärkeregler)

Mute can be enabled / disabled via jumper (Stummschaltung)


Built in High quality audio headphone amplifier (TI TPA6133A)

Earphone AMP can be enabled / disabled via jumper (Stummschaltung für Kopfhörer)


Built in High quality Class-D stereo audio amplifier (TI TPA3118D2)

Up to 2 x 20W into 4 ohm (Ausgangsleistung Lautsprecher mit 4 Ohm)


Amplifier can be enabled / disabled via jumper

Phono/RCA connectors

3.5mm stereo audio jack (3.5 mm Klinkenbuchse)

Speaker terminals (Lautsprecher Anschlüsse)

Built in IR sensor (38KHz)

Power output socket

DIP switch to remove connection from RPi's pin header

Directly connected on top of the Raspberry Pi using the board GPIO header pins

No wiring nor soldering is required

Duplicated the 40-pin header of the R-Pi in order to support existing expansion boards

Suitable for Raspberry Pi Model B+, Raspberry Pi 2 Model B and Raspberry Pi 3 Model B
Benötigt wird ein Netzteil 15 bis 24 Volt mit 90 Watt : http://amzn.to/2cDon7a
Das Board ist eine High-End Soundkarte für den Raspberry Pi, mit sehr guten Werten im Audio Bereich.
Nun machen wir uns an die Software Installation
sudo vi /boot/config.txt

dtoverlay=iqaudio-dacplus
dtparam=i2c_arm=on
dtparam=audio=on



sudo vi /etc/modprobe.d/raspi-blacklist.conf

# blacklist i2c-bcm2708
# blacklist snd-soc-pcm512x

sudo vi /etc/modules

snd_soc_bcm2708
snd_soc_bcm2708_i2s
bcm2708_dmaengine
snd_soc_pcm512x
snd_soc_iqaudio_dac

sync
sudo reboot
Starte nun den grafischen Desktop mit Eingabe "startx" als "pi" Benutzer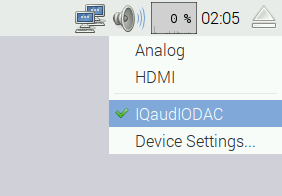 Wähle mit der Maus "IQaudioDAC" aus und entferne alle gelben Steckbrücken auf dem Board.
Jetzt kommt der Teil mit der Stromversorgung. Entferne nun die 5 Volt USB-Stromversorgung des Raspberry Pi, dieser Schritt ist ganz wichtig sonst kann es zu einem Kurzschluss kommen.
Nehmt dieses Netzteil : http://amzn.to/2cDon7a und kein billiges Netzteil, denn es zerstört sonst den Raspberry Pi und die X400 Platine und ihr habt Störgeräusche im Sound.
Die Platine Suptronics X400  kann hier bestellt werden :
http://www.gearbest.com/raspberry-pi/pp_229446.html
Im Augenblick habe ich nur den Kopfhörer probiert in Verbindung mit dem Browser mit ein paar Youtube Videos. Ich muss sagen der Klang ist astrein und glasklar. Es gibt kein hörbares Rauschen und der Sound ist sehr angenehm. Du kennst dass sicher, wenn man der Kopfhörer aufsetzt und auf einmal die Musik hörst, es fühlt sich genial an und es macht Lust. Was wirklich sehr praktisch ist, dass man die Lautstärke direkt an einem Potentiometer der Platine regeln kann. Es bedarf kein SSH-Login etc. um die Lautstärke zu regeln.
Im zweiten Teil kommt der Test mit Lautsprecher Boxen und eine Infrarot Fernbedienung da auf der Platine ein Infrarot Sensor einbaut ist.
Ein Aufbau mit Volumio ist ebenfalls möglich und wird als I2S DAC Device eingebunden.
https://blog.unixweb.de/volumio-mit-suptronics-x400-board/